Accelerated
Rules
ARC Market has developed this model to ensure that our serious traders can earn from the word go. Not only will we provide our traders with funding, we have also curated this model to enable our traders to scale up and scale up fast!
A trader will be given 50% of all profits made on ARC Market' Accelerated Accounts.
There are one of two ways a trader can request a payout.
1 – Trader of the day/week – We will pick the most profitable or most consistent trader of the day/week and allow him/her to request a payout. This method gives an incentive for traders to be profitable and get paid right away. If you impress us, we will get you paid fast.
2 – A trader may request a payout on a WEEKLY basis. Yes! Another industry first – ARC will allow for weekly withdrawal requests. They will be processed and paid out within 1-3 business days. Please note that it takes a minimum of 5 days between every payout unless the trader reaches the profit target.
*One thing to remember for both ways is that you must keep the account for at least 5 days after the first trade before requesting for a payout.
ARC Market' new and innovative scale up program ensures that a trader can trade up to 970K to 2MM without having to worry about restrictions on lot sizes or news trading and having an amazing scale up plan with industry leading drawdown parameters.
Each phase will start with a base amount a trader will register for. From that point on, with each milestone of hitting 10% profit, and 20% for emphatic, a trader's account will be scaled up by 2x or 1.5x, depending on the phase. Complete scale up program below.
2x to 1.5 will happen in alternate fashion till the traders account reaches the maximum allocated trade account size.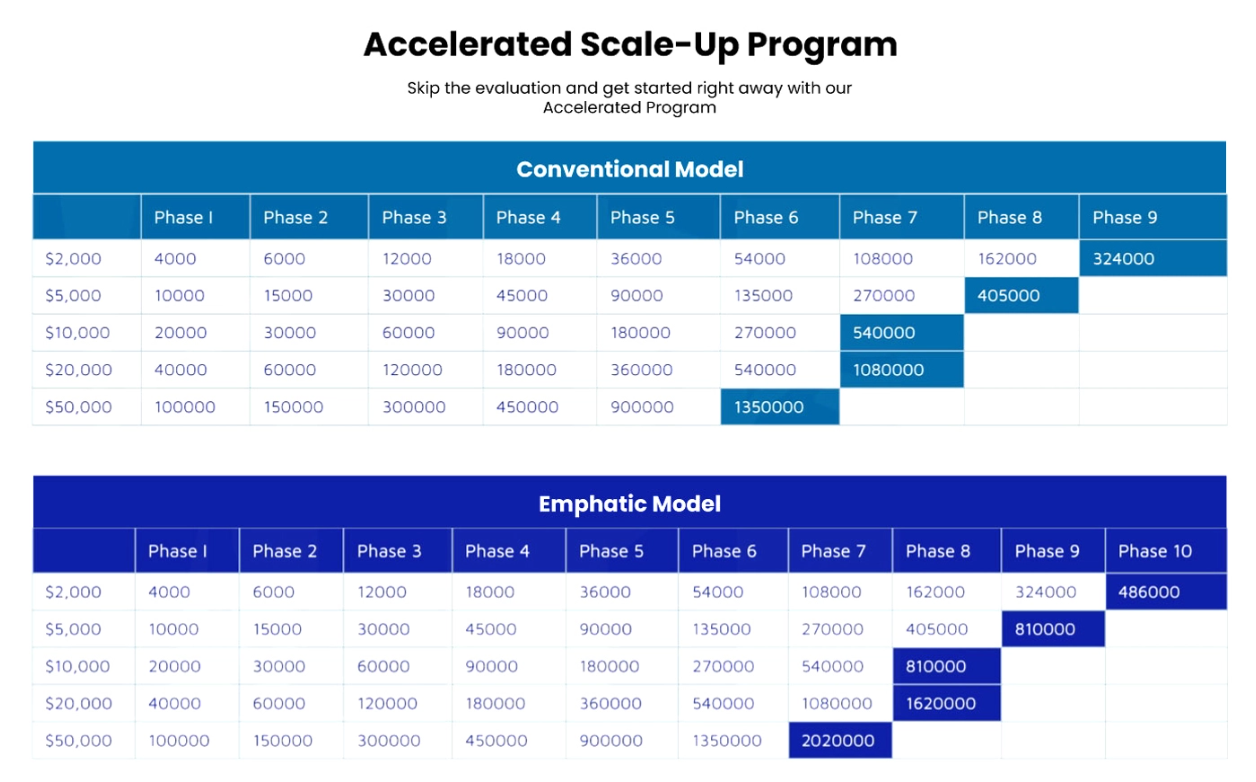 NB: We are beholden to the liquidity providers. For larger accounts over 500,000 there may be leverage limitations that will be discussed PRIOR to you scaling up beyond that level. We will work with you as best we can to ensure the best trading conditions for that account size.
We have taken the guess work out of drawdown and given our traders one of the simplest drawdowns out there in industry, overall drawdown. The Conventional model will carry a 5% overall drawdown and the Emphatic model will come with 10% overall drawdown.
In our accelerated program, overall drawdown will be calculated based on an accounts' or the scale up phase's starting balance.
For example, if a trader is starting with a 10K emphatic account, they will have an overall drawdown of $1,000.
However, that scales up to 20K in the next phase. The trader will now have 10% of the starting balance for that phase which equates to $2,000!
A trader must close all of his/her trades over the weekend
This is to ensure and preserve capital, remove liquidity risk and prevent drawdowns larger than allowed. Traders who have a trade left open during the weekend will be automatically suspended from the program.
However, there are no restrictions when it comes to lot sizes, trading during major news events or holding overnight.
We constantly are looking for the best products and best conditions for our traders. Currently you can trade FOREX, Crypto, CFD's including index CFD's as well as commodities like oil and metals.
Every now and then the product list may be updated based on the availability of margin, leverage, liquidity, and various other factors.
We adjust our products to increase the profitability of our traders where possible. We may remove a product if there are no users currently passing the phases of the evaluations due to those products.
We allow expert adviser to copying purposes only.
Any EA/Robots being used on the account otherwise will cause a breach in contract and loss of account. Unfortunately, this is necessary to prevent changes to the liquidity pool and unforeseen changes in spreads, margins and etc. We do plan on offering an automated trading option in the near future. Users' are welcome to copy trades of their own using a trade copier, however, users who are copying someone else's trades will be considered in breach of their account.
After your program registration, you will receive your login details within 1-2 hours. The account will be on read-only mode until we verify your KYC documents. You are not allowed to change the details of this account under any circumstances. Doing so will be a breach and your account will be suspended.
At ARC Market, we are looking for individual traders to grow with us long term. What this means is that we want YOU to be the trader. Its ok to learn your skills from other experts, however, use of signal bots or trade copiers of other traders will not be accepted. If we notice someone using these services, we will suspend their account. We can tell that this is happening by the magic number on the account.
This rule may not apply if you have submitted your expert adviser or bot for prior approval and approval has been granted.
We are constantly monitoring all accounts to make sure the rules are being followed.
You must send your required KYC documents and Independent Contractor aggreement to verification@arcmarket.capital
Proof of ID: You can send any official government issued identification such as the following: – Driver's License – Birth certificate – Passport Proof of address: You can send any official document that provides your name and address such as the following: – Bank statement – Utility Bill – Phone Bill – Tax Documents
No trader at ARC Market will be liable for any trading losses. However, we encourage you to practice good risk management practices and engage in a trading plan to maximize your chances of not incurring a loss, allowing you to stay in the game long term and make as much as possible.
Once trading has started, there will not be any refunds. However, if you have just registered and the account has not been traded on, we can refund your registration fees.
You are responsible for making sure your account credentials are safe. We do not reinstate accounts that have been hacked or distributed to third parties for trading and lost. If your account has been hacked, get in touch with our team so we can lock the account and change the password and run you through security protocols. No reinstatements of accounts will occur so it is important for you to get to us as quick as you can if your account has been hacked.
Trading activities that are used to take advantage of the inefficiencies of Metatrader. Gap trading, latency arbitrage, Long short arbitrage, Reverse arbitrage, opposite account trading are all unacceptable trading methods with MyForexFunds. Anyone part-taking in such activities will have their trades adjusted to the executed fill price that we have received from the liquidity pool. Repeat offences will result in account termination.
If your account is inactive for 30 days it will be automatically breached. If you do not inform us within 10 days of the breach the reason for the inactivity, the account will be permanently suspended.
This rule is to prevent us having thousands of hedged trades on abandoned accounts. If you are planning to be away for a prolonged period of time, please inform us and we will make sure your account continues.